Heavenly Ricotta Pancakes
Prep 10 mins
Cook 15 mins
i found this recipe on the Precious brand ricotta cheese container in 1975 and have been making them ever since! our friend, Patrick, calls them "heavenly". these are such light, fluffy pancakes that it's hard to stop eating them! i double or triple the recipe for my family of 6.
Directions
Separate eggs and whip whites til soft peaks.
Set whites aside.
Mix all other ingredients together thoroughly.
Gently fold in whites.
Put 1/4 cup or so on medium hot greased griddle.
Flatten somewhat with spoon.
Cook until lightly golden brown and turn once.
Serve with warm melted butter and sprinkle with confectioners' sugar.
You can serve with jam, also.
Reviews
Most Helpful
I didn't quite have half a pound of ricotta, so I added some milk (3/4 cup). The batter was very creamy and ethereally light. The resulting pancakes came out a little thinner than I like, more like somewhere between a cr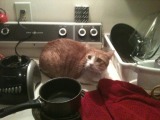 Nice and light! I did have to add 1 tbsp more flour because my mix was too runny and the pancakes weren't staying together. This could have been because I used fresh ricotta and it's more watery than the stuff you buy in the store.

Recipe was okay- felt the batter made way too much for two people!! Made exactly as described, topped it with warmed raspberry jam made by my mother-in-law (nectar of the gods in itself!) and topped with powdered sugar...definitely light, a bit creamier than I'd expect- I'd probably add a T. of sugar to the batter; I'd bet this would taste really good as a base of a savory dish!